Moving Home within the Isle of Man
The Isle of Man is a unique location and we know it better than anyone: we are familiar with its remote regions and narrow access roads which although forming part of its charm, can present major problems to inexperienced movers.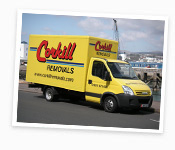 Our 'Moving within the Isle of Man' service can be tailored to your precise needs. We can pack everything for you, leaving you time to concentrate on other things; alternatively, if you would like to keep the cost down by doing some of the work yourself, we'll work for you, adjusting our service to match your needs.
Sale of materials: Remember: even if you want to pack yourself, use quality materials. This makes the job easier and protects your belongings more effectively.
A 'local' removal need not be stressful in any way. Careful planning by trained staff in line with your timetable and personal requirements can remove the 'stress' of moving altogether.